Our program is free to join, it's easy to sign-up and requires no technical knowledge. Earn cash or store credit by referring your friends to StoryLeather.com. Each time someone clicks your affiliate link they will be tracked in our affiliate system and you will earn a commission on every sale you helped generate.
How Does It Work?
When you join our affiliate program, you will be supplied with a unique link to share. When a user clicks on one of your links, they will be brought to our website and their activity will be tracked by our affiliate software. Once a purchase is completed from the traffic you send us, you earn commission on every single profitable sale! There is no technical knowledge needed and we provide all of the tools to share your link from inside our affiliate center, you can automatically customize and share via email, facebook, twitter and more.
Affiliate Cycle

Real-Time Statistics and Reporting!
Login 24 hours a day to check our sales, traffic, account balance and see how your links are performing. It's free, easy to use and gives you the chance to offer all of our products at discounted prices to all of your friends and family automatically.
SIGN UP TODAY
Sign Up Here and Earn 20% Commission on Your First Referral
Already a ShareASale Affiliate?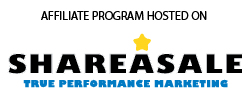 Join us on ShareASale.com