Your dog deserves the best. Custom handcrafted leather dog leashes are soft, comfortable and durable allowing your furry friend to look fabulous while still being the playful K-9 she is. With our handcrafted leash, this leather dog leash features top and bottom leather layers reinforced with ballistic nylon. Optional matching collar when customizing your collar.
Perfect leather leash for your furry friend
Custom tailored with your choice of leather colors
Smooth leather lining for comfort
Multi-ply design for durability
Choose your hardware color
Personalize with name and/or contact info on leash
Length 60-in. (153.5cm) x Width 0.43-in. (1.1cm)

Finest Craftsmanship Guaranteed

Ships in 3-5
Business Days

International Shipping Available

100% Secure
Shopping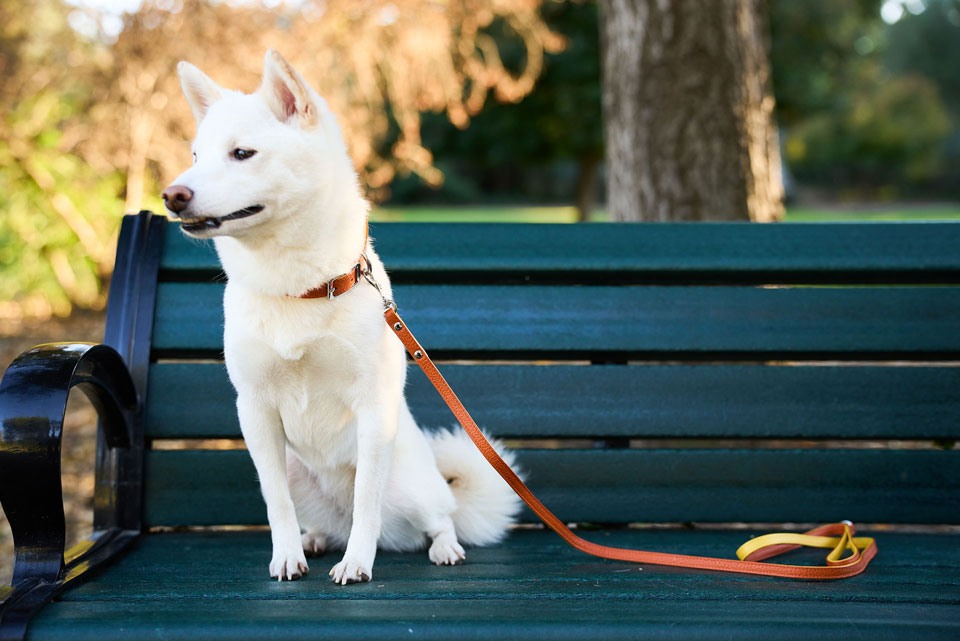 Cooper Dog Leash

This is going to be your go-to dog leash when you walk your pup. The stylish yet minimalist design will make your dog feel like a million bucks! Custom handcrafted with your choice of colors to match the playfulness of your pup.

ON DISPLAY

Exterior Leather / Pebbled Grain / A-115 Orange
Interior Lining / Inner Band / E2 Yellow
Hardware Color / Silver
Dimensions / L 60-in. (153.5cm) x W 0.43-in. (1.1cm)

Finest Craftsmanship

Using the finest workmanship, our team of leather artisans beautifully handcraft and tailor these custom leather collars to be minimalistic and elegant.

Handmade with Genuine Leather

All leather goods are handmade by our leather artisans. We use the highest quality fine grain leather combined with the best stitch work to provide you with a premium quality leather wallet.

Tailor Made to Order

Don't like this leather? Let us custom build one that perfectly suits your taste! Choose from over 100 different leather combinations and create your own holster case. Please allow up to 30 days for delivery of all custom made items, we understand it's a long wait, but we are taking our time to make it the best it can be. You will appreciate the quality of our leather goods and that's a Story Leather guarantee!