The Belt Clip Holster in Black Calfskin Smooth Fine Grain is the perfect solution for carrying your Apple iPhone 15, 15 Plus, 15 Pro or 15 Pro Max professionally and elegantly. Made with the finest craftsmanship, this leather case is tailored to fit your device and has a magnetic closure to keep it securely shut. It also features a large bolt-enforced belt clip for easy carrying. - Leather holster that is tailored to fit the Apple iPhone
- Magnetic closure to keep the case securely shut
- Large bolt-enforced belt clip
- Available for iPhone 15, 15 Plus, 15 Pro or 15 Pro Max
- Pre-made and ready to ship

Finest Craftsmanship Guaranteed

Ships in 3-5
Business Days

International Shipping Available

100% Secure
Shopping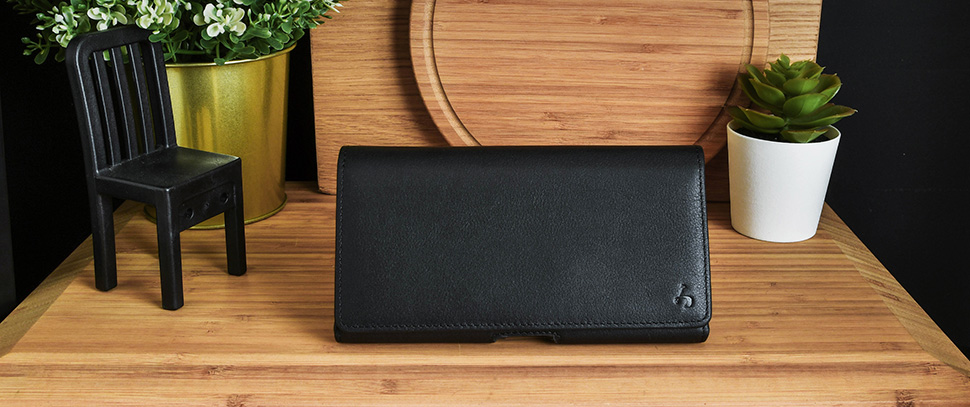 Leather Belt Clip Holster

Professional, classy and sturdy leather holster phone case built specifically for the Apple iPhone 15, 15 Plus, 15 Pro or 15 Pro Max. This is the perfection solution for carrying your smartphone professionally and elegantly.

ON DISPLAY

Exterior Leather / Smooth Fine Grain Calfskin - A10
Interior Lining / Black Suede D-1
Closure Style / Full Cover with Magnetic Closure
Back Style / Large Metal Belt Clip
Fit / Apple iPhone 15, 15 Plus, 15 Pro or 15 Pro Max with Slim Back Cover (Apple or Story Back Covers)

Finest Craftsmanship

Using the finest workmanship, our team of leather artisans beautifully handcraft and tailor the case to fit the Apple iPhone 15, 15 Plus, 15 Pro or 15 Pro Max with or without a slim profile back cover.

Handmade with Genuine Leather

All leather cases are handmade by our leather artisans. We use the highest quality fine grain leather combined with the best stitch work to provide you with a premium quality leather case.

Tailor Made to Order

Don't like this leather? Let us custom build one that perfectly suits your taste! Choose from over 100 different leather combinations and create your own holster case. Please allow up to 30 days for delivery of all custom made items, we understand it's a long wait, but we are taking our time to make it the best it can be. You will appreciate the quality of our leather goods and that's a Story Leather guarantee! Click here to custom build one today!