Dollar the Dragon - 2024 Year of Golden Dragon
This year's "Dollar the Dragon" is truly exceptional. It's crafted from solid pure brass, with a substantial weight of approximately 3.7oz (105g). To present the complete dragon, it took a whole year of refinement and numerous revisions to the design and molds. We've worked tirelessly to craft this exquisite golden dragon hoping that everyone can accumulate and preserve wealth and prosperity in the Year of the Dragon 2024.
WHAT YOU'LL LOVE:
Adorable figurine set to bring you good fortune
Inspired by ancient Chinese traditions
Expertly handcrafted by our artisan team

Finest Craftsmanship Guaranteed

Ships in 3-5
Business Days

International Shipping Available

100% Secure
Shopping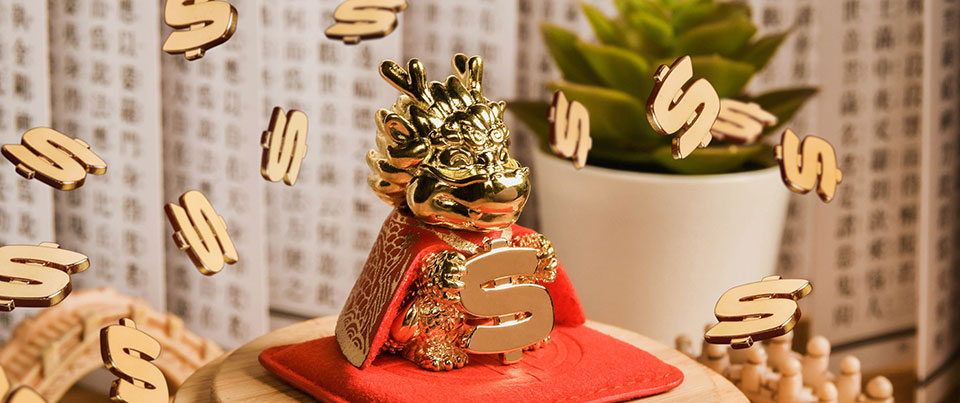 Dollar the Dragon Figurine

Dollar the Dragon is adorned with a splendid wealth-attracting red leather dragon cape. We've employed a special gold-stamping techniques to emboss the dragon pattern onto an ultra-fine fiber material, creating a three-dimensional effect on the red leather dragon cape. The dragon's smiling eyes and expression are meant to bring a year of smiles and financial success to all. Our new year design of the Golden Dragon is designed to "hold" money, as a symbol of wealth preservation. Good fortune follows suit in 2024, in the Year of the Dragon, you can expect substantial financial gains.

ON DISPLAY

Dragon Leather Cape / Mango Red Calfskin Leather
Dragon Material / Yellow Brass
Dragon Dimensions / H 1.8-in. (4.5cm) x W 1.2-in. (3cm) x D 1-in. (2.5cm)
Dragon Weight / Approx. weight 3.7oz (105g)
Dragon Dollar / Yellow Brass
Dragon Sitting Cushion / Red Microfiber

Finest Craftsmanship

Using the finest craftsmanship, our team of artisans beautifully handcraft these little keepsakes in hopes of wealth and fortune preservation in the Year of Dragon 2024.

Handmade with Genuine Leather

All leather goods are handmade by our leather artisans. We use the highest quality calfskin leather combined with the best stitch work to provide you with a premium quality leather charm.