Pumpkin Orange Calfskin Keyring - 2024 edition
Elevate your style and immerse yourself in the richness of Asian culture with this captivating orange calfskin leather keychain. A harmonious fusion of contemporary design and traditional Chinese lucky charm, it's the ideal choice for scholars, students, and anyone aspiring to academic success.
This chic keychain showcases elegantly inscribed Chinese characters (考運昌隆), symbolizing the blossoming of academic success and achievements. It's expertly crafted to complement your dedication and hard work, serving both as a secure talisman and a stylish accessory, allowing you to carry good luck and success wherever you go.
WHAT YOU'LL LOVE:
Functional and Versatile as a keychain
Inspired by ancient Chinese traditions
Expertly handcrafted by our leather artisan team

Finest Craftsmanship Guaranteed

Ships in 3-5
Business Days

International Shipping Available

100% Secure
Shopping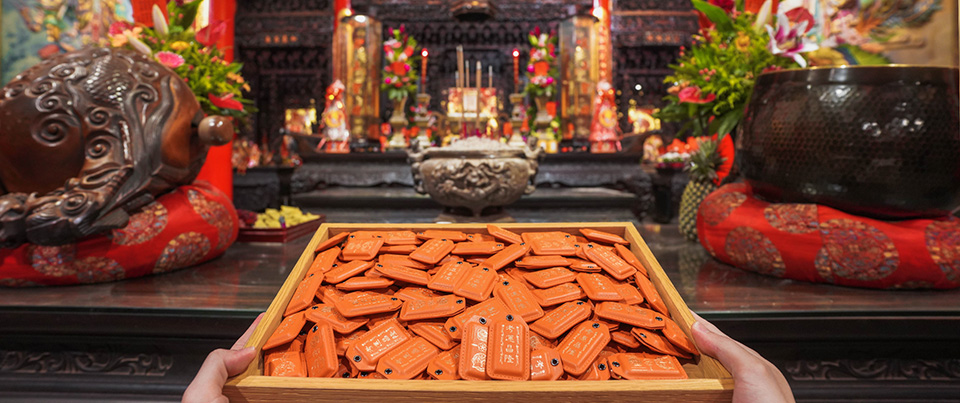 Golden Dragon 2024 Pumpkin Orange Keyring

Embrace the beauty of Asian culture and craftsmanship with this keychain for the Year of the Golden Dragon in 2024. It serves as a beacon of hope and good fortune for those on the path to academic excellence. Carry it as a symbol of your dedication and ambition, knowing that with each step, you draw closer to achieving your goals.

ON DISPLAY

Leather / Pumpkin Orange Calfskin Leather
Keyring Hardware / Gunmetal Black
Dimensions / W 1.3-in. (3.3cm) x H 2.3-in. (5.8cm)

Finest Craftsmanship

Flip it over, and you'll unveil an intricate design on the reverse side. At its center, five circles represent the harmonious safeguarding of the five elements, ensuring balance and protection. Below, the design beautifully intertwines books, keys, and flowers, symbolizing the unlocking of wisdom and knowledge. It embodies the belief that diligent study leads to bountiful rewards. With the blessings of this lucky charm, may your academic journey be filled with prosperity and resounding success.

Handmade with Genuine Leather

All leather goods are handmade by our leather artisans. We use the highest quality calfskin leather combined with the best stitch work to provide you with a premium quality leather charm.