Red Calfskin Keyring - 2024 edition
Elevate your style while welcoming good fortune with our meticulously handcrafted red calfskin leather keychain. Inspired by traditional Chinese lucky charms, it's the ideal accessory for aficionados of fine craftsmanship.
Artfully designed for the auspicious Year of the Golden Dragon 2024, this keychain carries ancient blessings of wealth and prosperity. Adorned with the Chinese characters (龍來財進), signifying the arrival of fortune and affluence, it seamlessly blends tradition with contemporary aesthetics, mirroring your unwavering dedication and aspirations.
WHAT YOU'LL LOVE:
Functional and Versatile as a keychain
Inspired by ancient Chinese traditions
Expertly handcrafted by our leather artisan team

Finest Craftsmanship Guaranteed

Ships in 3-5
Business Days

International Shipping Available

100% Secure
Shopping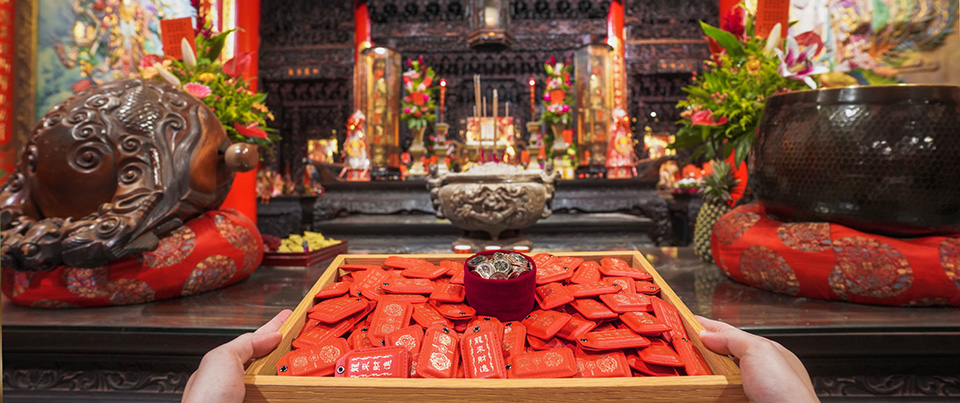 Golden Dragon 2024 Keyring

Embrace tradition, craftsmanship, and a dash of mystique with this exquisite keychain. Whether you carry it for your personal good fortune or bestow it as a heartfelt gift, its beauty and significance are certain to captivate your heart.

ON DISPLAY

Leather / Red Calfskin Leather
Keyring Hardware / Gunmetal Black
Dimensions / W 1.3-in. (3.3cm) x H 2.3-in. (5.8cm)

Finest Craftsmanship

Turn it over, and you'll discover a profound design. The five circles at its core symbolize the harmonious safeguarding of the five elements, ensuring equilibrium and serenity in your life. Below, a majestic golden dragon gracefully forms the number 8, an emblem of boundless opportunities and an unceasing flow of prosperity. With this talisman at your side, may your wealth know no bounds.

Handmade with Genuine Leather

All leather goods are handmade by our leather artisans. We use the highest quality calfskin leather combined with the best stitch work to provide you with a premium quality leather charm.