Sky Blue Calfskin Keyring - 2024 edition
Elevate your style while welcoming good fortune with our meticulously handcrafted red calfskin leather keychain. Inspired by traditional Chinese lucky charms, it's the ideal accessory for aficionados of fine craftsmanship.
This sky blue calfskin leather keychain is a modern twist on traditional Chinese lucky charm for family. The good luck talisman is inscribed with Chinese words (健康永駐) representing prayers for good health in the Year of the Golden Dragon (2024). The lucky charm provides a secure, stylish talisman for you and your family. Bring good luck and blessings of good health with you wherever you go.
WHAT YOU'LL LOVE:
Functional and Versatile as a keychain
Inspired by ancient Chinese traditions
Expertly handcrafted by our leather artisan team

Finest Craftsmanship Guaranteed

Ships in 3-5
Business Days

International Shipping Available

100% Secure
Shopping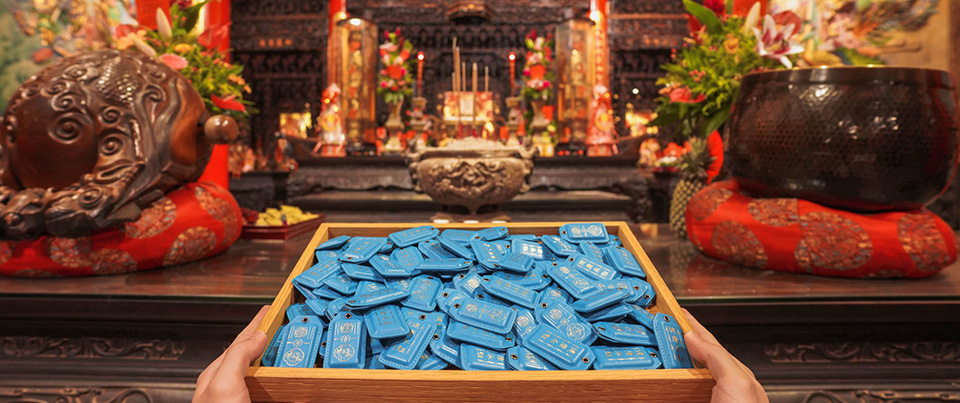 Golden Dragon 2024 Sky Blue Keyring

Elevate your style and invite blessings of good health with this exquisite sky blue calfskin leather keychain. It's a contemporary take on a traditional Chinese lucky charm crafted especially for individuals who appreciate the art of fine craftsmanship and genuine leather.

ON DISPLAY

Leather / Cerulean Calfskin Leather
Keyring Hardware / Gunmetal Black
Dimensions / W 1.3-in. (3.3cm) x H 2.3-in. (5.8cm)

Finest Craftsmanship

Turn it around, and you'll discover a meaningful design. The five circles at the center symbolize the protective embrace of the five elements, ensuring harmony and balance in your family's life. Below, we've artfully incorporated the radiant sun and the statice flower, also known as the "Morning Star" flower. The sun represents eternal vitality, while the ever-blooming flower signifies that, under the sun's nurturing glow, health flourishes eternally. Our hope is that everyone in your family may revel in lasting well-being, thanks to the blessings bestowed by this remarkable charm.

Handmade with Genuine Leather

All leather goods are handmade by our leather artisans. We use the highest quality calfskin leather combined with the best stitch work to provide you with a premium quality leather charm.