Soft Lavender Calfskin Keyring - 2024 edition
Elevate your style and embrace the rich traditions of Asian culture with this exquisite lavender calfskin genuine leather keychain. A harmonious blend of modern design and traditional Chinese lucky charm, it's a perfect choice for expecting moms or families on the journey to expansion.
This elegant keychain is inscribed with Chinese characters (好孕來到), symbolizing the arrival of a joyful pregnancy. It embodies heartfelt prayers for a safe and healthy child in the Year of the Golden Dragon 2024. More than just an accessory, it's a stylish talisman crafted to bring expecting moms peace and serenity.
WHAT YOU'LL LOVE:
Functional and Versatile as a keychain
Inspired by ancient Chinese traditions
Expertly handcrafted by our leather artisan team

Finest Craftsmanship Guaranteed

Ships in 3-5
Business Days

International Shipping Available

100% Secure
Shopping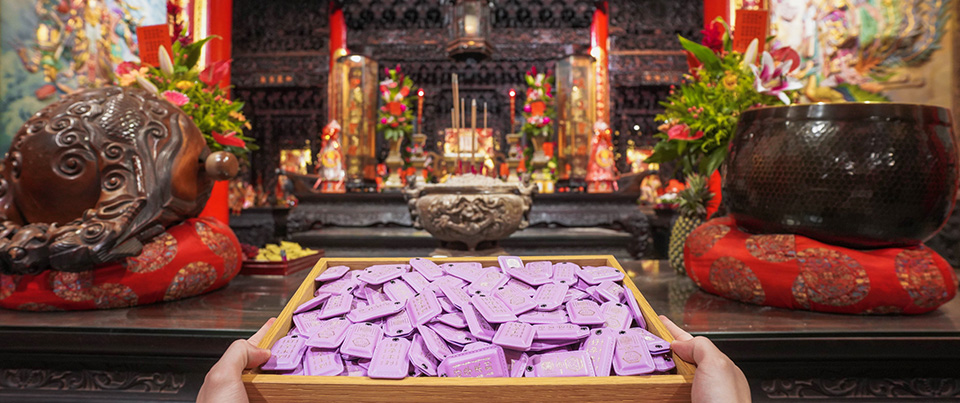 Golden Dragon 2024 Soft Lavender Keyring

With this charm by your side, may your pregnancy be filled with serenity and your child's arrival be as wondrous as a shooting star lighting up the night sky. Embrace the beauty of Asian culture and craftsmanship with this keychain, carrying the promise of a bright and harmonious future with you for the Year of the Dragon 2024!

ON DISPLAY

Leather / Soft Lavender Calfskin Leather
Keyring Hardware / Gunmetal Black
Dimensions / W 1.3-in. (3.3cm) x H 2.3-in. (5.8cm)

Finest Craftsmanship

Turn it over, and you'll find a captivating design on the reverse side of the keychain. Five circles at the center represent the harmonious safeguarding of the five elements, promising a balanced and safe journey. Below, the design features a shooting star streaking across the sky and a baby crib, symbolizing the realization of cherished wishes and the joyful arrival of a precious child.

Handmade with Genuine Leather

All leather goods are handmade by our leather artisans. We use the highest quality calfskin leather combined with the best stitch work to provide you with a premium quality leather charm.