Good Luck Turtle Keyring - 2023 edition
Turtle in Red Keepsake. We all need a little bit of good will and luck these days. For the new season, we have redesigned the keepsake as a keychain so that it is more functional and versatile. Let this new keepsake foster good will and hopefully bring a little bit of good luck to you wherever you go. Inspired by Chinese traditions, we have created a charm combined with a brass turtle to symbolize heath, wealth, longevity, and good will. Gift one and keep one of these keepsakes today.
WHAT YOU'LL LOVE:
Functional and Versatile as a keychain
Inspired by ancient Chinese traditions
Expertly handcrafted by our artisan team
100% of profit on this item donated to support AAPI Community Fund on gofundme.com

Finest Craftsmanship Guaranteed

Ships in 3-5
Business Days

International Shipping Available

100% Secure
Shopping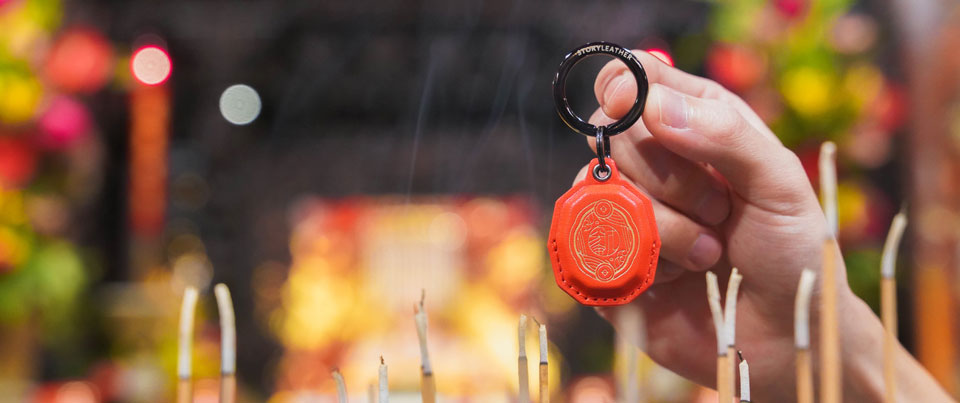 Good Luck Turtle Keyring

In Asian culture it is customary to gift someone a lucky charm as a gesture of encouragement and good will. Traditionally these lucky charms are simple and made of fabric. We decided to redesign what is traditional into something that is modern, classy, yet retains that traditional feel. For the new season we have converted the hanging tag to a more functional keychain / keyring that you can carry with you wherever you go.

ON DISPLAY

Leather / Mango Red Calfskin Leather
Turtle / Yellow Brass
Turtle Dimensions / L 1.1-in. (2.8cm) x W 0.7-in. (1.8cm) x Depth 0.2-in. (0.5cm)
Turtle Weight / Approx. weight 13g

Finest Craftsmanship

Using the finest craftsmanship, our team of leather artisans beautifully handcraft these little keepsakes in hopes of bringing you a little bit of luck and happiness .

Handmade with Genuine Leather

All leather goods are handmade by our leather artisans. We use the highest quality calfskin leather combined with the best stitch work to provide you with a premium quality leather charm.