Good Luck Turtle Matcha Green Keyring - 2024 Edition
The "Health Turtle" features the Chinese character "壽" for "longevity" above the turtle's shell, symbolizing the return of health. We wish for everyone to enjoy good health and longevity. This turtle is complemented with a vibrant matcha green calfskin leather cover, exuding youthful energy. The front displays a combination of characters "長樂永康" meaning "long-lasting happiness and health". With its keyring design, it's easy to carry, and we hope it brings the blessings of longevity and happiness into your life.
In the Year of the Golden Dragon, we've designed an adorable "Fortune Well" exclusively for the Golden Turtles as a tabletop decoration. This stone well is where the golden turtles can reside. The "Fortune Well" is made of green sandstone. Please note that the "Fortune Well" is only available as an add-on and cannot be purchased separately. It is available for an additional $15 .
WHAT YOU'LL LOVE:
Functional and Versatile as a keychain
Inspired by ancient Chinese traditions
Expertly handcrafted by our artisan team

Finest Craftsmanship Guaranteed

Ships in 3-5
Business Days

International Shipping Available

100% Secure
Shopping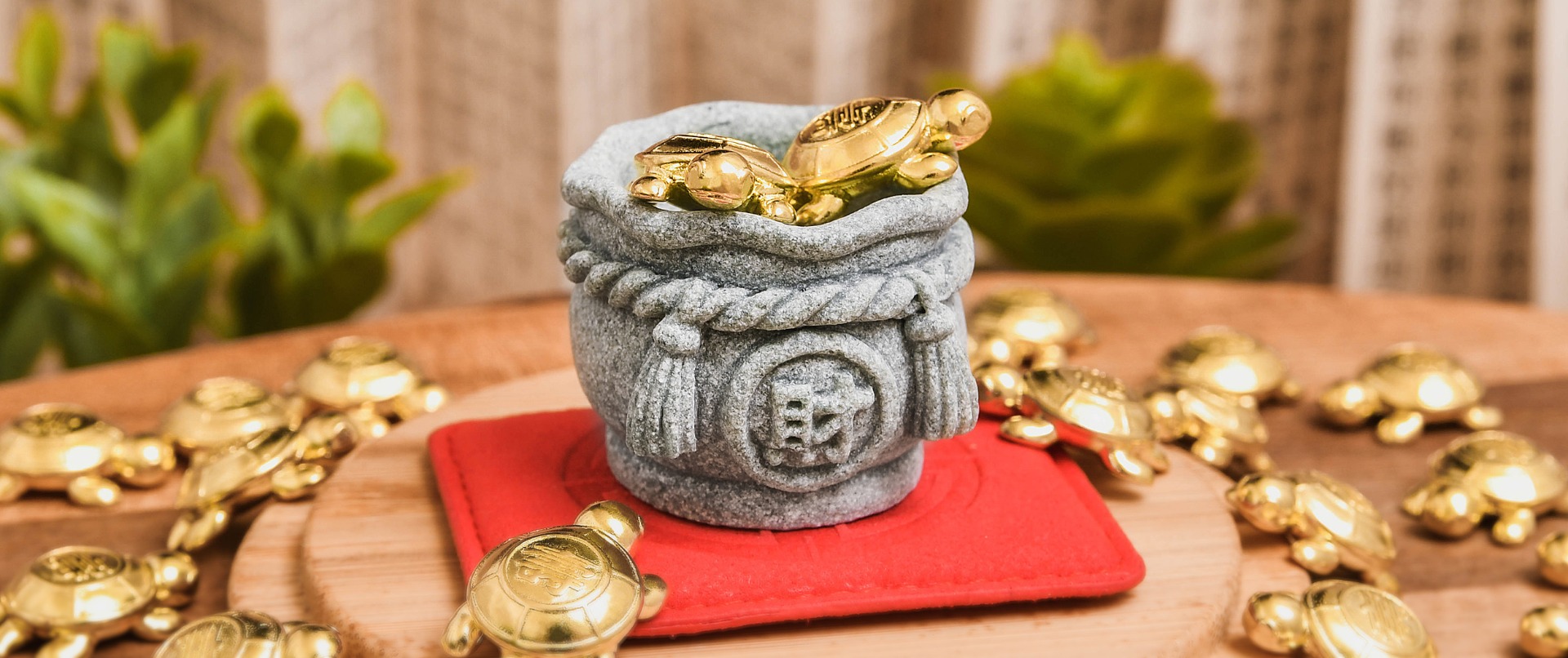 Good Luck Turtle Keyring - 2024 Edition

In the Year of the Golden Dragon 2024, we've employed a brand-new 3D modeling technique to create these adorable golden turtles, using solid pure brass to bring out their charm. With three different wish-themed turtles available, we hope that everyone's fortunes will go smoothly in the Year of the Dragon 2024.

ON DISPLAY

Leather / Matcha Green Calfskin Leather
Turtle / Yellow Brass
Turtle Dimensions / L 0.8-in. (2.1cm) x W 0.5-in. (1.3cm) x Depth 0.2-in. (0.6cm)
Keyring Dimensions / L 1.5-in. (3.8cm) x W 1.3-in. (3.3cm) x D 0.4-in. (1cm)

Finest Craftsmanship

Using the finest craftsmanship, our team of leather artisans beautifully handcraft these little keepsakes in hopes of bringing you a little bit of luck and happiness .

Handmade with Genuine Leather

All leather goods are handmade by our leather artisans. We use the highest quality calfskin leather combined with the best stitch work to provide you with a premium quality leather charm.

Optional Add-on

The "Fortune Well" is made of green sandstone. If you want to place your turtle in a wealth position as a tabletop decoration, you can add this to your purchase.

Optional Mini Well / H 1.1-in. (2.7cm) x W 1.3-in. (3.4cm) x D 1.3-in. (3.4cm)