Kimbo the Rabbit - 2023 Year of Rabbit
Kimbo the Rabbit with Bucket of Gold. We all need a little bit of good fortune and luck these days. For 2023, we have designed Kimbo the Rabbit in celebration of Chinese New Year 2023 - the year of the rabbit. Let this new keepsake figurine set foster good will and hopefully bring a little bit of good luck to you. Inspired by Chinese traditions, we have created the rabbit with a bucket of sycee or yuanbao (元寶) to symbolize wealth and fortune. Gift one and keep one of these keepsakes for good fengshui on your tabletop.
WHAT YOU'LL LOVE:
Adorable figurine set to bring you good fortune
Inspired by ancient Chinese traditions
Expertly handcrafted by our artisan team

Finest Craftsmanship Guaranteed

Ships in 3-5
Business Days

International Shipping Available

100% Secure
Shopping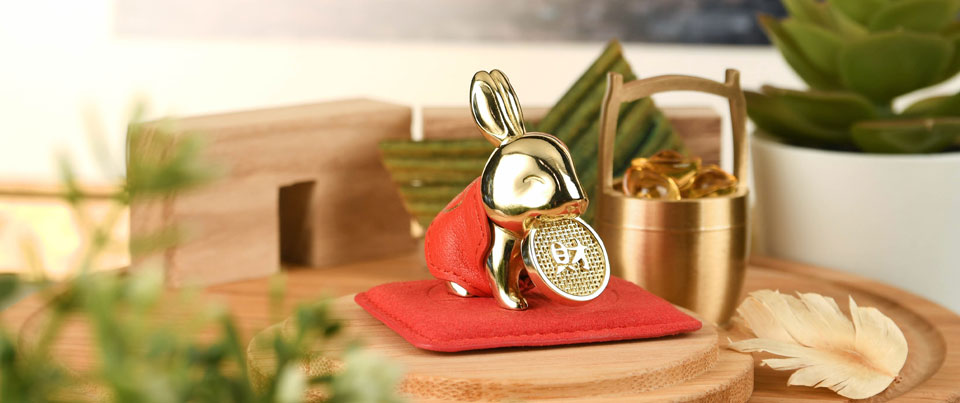 Kimbo the Rabbit Figurine

2023 is the year of the golden rabbit. Every year we bring out special Chinese New Year decor, base on the Chinese zodiac sign, to celebrate and bring you good fortune for the coming year. These are the things that make Chinese traditions so meaningful! The adorable rabbit with bucket of sycee or yuanbao (元寶) - a type of gold and silver ingot currency used in imperial China- symbolizes wealth and fortune. With this figurine set by your side, 2023 year will being you prosperity and wealth!

ON DISPLAY

Rabbit's Leather Jacket / Mango Red Calfskin Leather
Rabbit / Yellow Brass
Rabbit Dimensions / L H 1.7-in. (4.3cm) x W 0.79-in. (2cm) x D 1.57-in. (4cm)
Rabbit Weight / Approx. weight 80g
Bucket of Yuanbao Dimensions / L H 2-in. (5.1cm) x W 1.14-in. (2.9cm) x D 1.14-in. (2.9cm)
Bucket of Yuanbao Weight / Approx. weight 30g

Finest Craftsmanship

Using the finest craftsmanship, our team of artisans beautifully handcraft these little keepsakes in hopes of bringing you a little bit of luck and happiness .

Handmade with Genuine Leather

All leather goods are handmade by our leather artisans. We use the highest quality calfskin leather combined with the best stitch work to provide you with a premium quality leather charm.