Introducing our version of the Maneki Neko, the Japanese cat figurine believed to bring good luck to the owner. Our "Maneki Neko Rich Cat" wears a red leather cape and exudes confidence in helping you attract good luck and fortune. With solid brass hardware and meticulous craftsmanship, it makes a fantastic gift or fun addition to your tabletop décor.
WHAT YOU'LL LOVE:
Super-cute and fantastic gift of good will
Solid brass figurine
Meticulously handcrafted red leather cape
Fun way to decorate your tabletop

Finest Craftsmanship Guaranteed

Ships in 3-5
Business Days

International Shipping Available

100% Secure
Shopping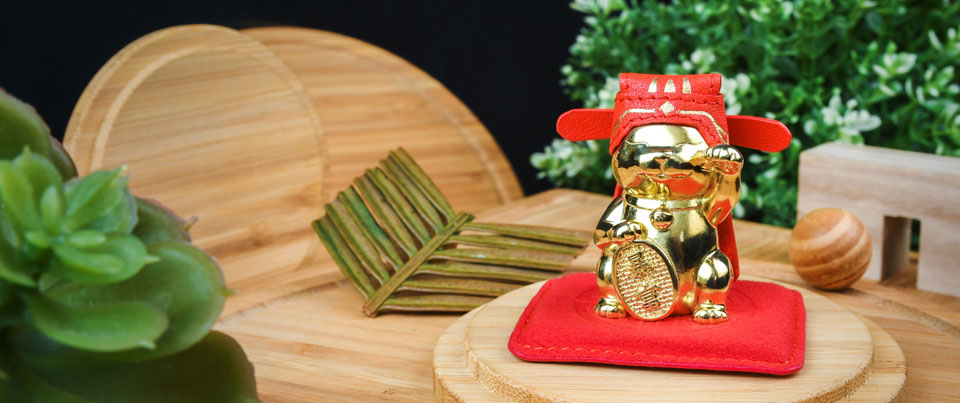 Maneki Neko Rich Cat

As part of our ongoing collection to educate and share our Asian culture and heritage, we are introducing our version of the Maneki Neko, the ever popular Japanese cat figurine that you see in all Chinese restaurants waving at you. The cat is often believed to bring good luck to the owner and serves as a feng-shui decor in restaurants and stores and even at home. Our Story Leather version of the maneki neko wears a leather red cape and exudes a ton of confidence in helping you bring good luck and fortune

ON DISPLAY

Hardware Material / Solid Pure Brass
Leather / Red Smooth Fine Grain
Weight / 100g
Dimensions / H 1.7-in. (4.4cm) x W 0.9-in. (2.3cm)

Finest Craftsmanship

Using the finest workmanship, our team of leather artisans beautifully handcraft and tailor each one of the mini red leather cape to fit and tell our story. As we continue to launch and expand our Brand collection, we will introduce materials and elements outside of leather to offer something that's distinct and unique to our story.

Brand Stories

Let us tell our story with products that will touch your heart. The Brand Collection products will allow for us to share our culture and traditions by infusing them with modern design to create gifts and products that are truly one of a kind.

Perfect for Gift-Giving

All of our Brand Collection goods are designed with gifting in mind. We design small gift items that has a meaning and a story behind them. We want to use these gift items as a conversation starter to share our culture and tradition.